Welcome to Consult Ranjan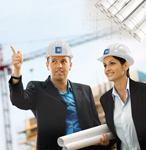 Consult Ranjan is a successful twenty-first century consultancy and project management company specializing in construction services. Established in the twentieth century, the firm has adopted modern methods of conducting business with tried and true technology for solving the problems of clients. The core competency of Consult Ranjan is the knowledge and experience of its collective of professional consultants. Highly specialized consultants add value to the collective that translates into successful projects. The knowledge-based organization has established strategic partnerships with consulting engineers, urban planners, architects, attorneys, and realtors. Principal consultant, Randy Ambalavanar is a skilled negotiator who has talents in identifying tailor-made solutions that are implementable, based on more than twenty years of field and office experience.
Plans Review

Team Leadership

Public Relations

Project Management
News Alert

Major civil engineering works completed on site of Hindu Temple on Birchmount Road The Kanthaswamy Temple on the 2-acre triangular site at 733 Birchmount Road in Scarborough may move to design and construction following completion of major civil engineering works required for stormwater management and intersection improvements in 2011 that were facilitated by the expertise of Consult Ranjan. The temple had operated for 15 to 16 years in the converted single story industrial building that had surpassed its design life. A site plan application filed in the mid 2000s was unsuccessful in securing the necessary permits from the City of Toronto to continue operations as a temple. The plan did not consider flooding concerns, the signalization of the intersection at Birchmount and Comstock Roads, and the entrance to the site.